Have you experienced a moment during or after an interview in which you wish you would have responded in a different manner? Chances are if you are actively interviewing and haven't experienced this yet, you likely will. It's well known that many people face "interview anxiety" just as many people experience a heightened level of anxiety before taking a test, making a difficult decision, or beginning a new experience. What sets many individuals apart from the masses, is how they choose to deal with these experiences.
An interview can be a nerve racking experience for even the most confident candidate. You are often facing a new environment, meeting new individuals, and you are most often unsure of what their expectations are for applicants and for the position. Even the most calm and collected public speakers experience a heightened level of nervousness or anxiety in an interview setting. So how can you prepare yourself?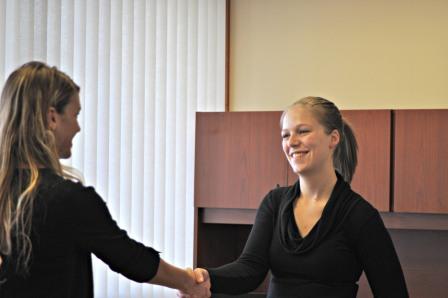 As with any experience, the best way to improve is through learning from your previous experiences. Whether you wish you would have dressed more professionally, answered a question more quickly, or responded with a completely different answer; you more often than not cannot change the immediate response. What you can do is move past the decision quickly and change it for future interviews. Often, the response or reaction that you are concerned about may go unnoticed or leave less of an impact with the hiring manager if you remain confident and move on from the moment. Becoming flustered, attempting to change your answer, or trying to further justify your response can show signs of indecisiveness and draw more attention to the response.
The majority of hiring managers debrief themselves following an interview, you should plan to do the same. What do you feel went well? What do you wish you could improve upon for future interviews? Is there a question in regards to the position or the organization that you wish you would have asked? The best time to review your thoughts is within an hour of the interview. Take a few moments to document for future reference what you felt very positive about and areas that you could use improvement. Use this list to prepare yourself for future interviews by taking confidence in your interviewing strengths and preparing yourself for areas of weakness.
As with almost anything, practice and preparation can greatly ease your sense of nervousness in an interview setting. If you find that you are continuing to struggle with the interview process, consider speaking with those who are familiar with your work to ask them to identify some of your areas of strength, what sets you apart from your peers, and practice reviewing interview questions that can be found online. Some candidates greatly benefit from partnering with a recruiter or staffing firm to help prepare them for the interviewing and debriefing process. Find a process and comfort level that works best for you and remain persistent.
Are you a stand out professional or technical professional seeking contingent, temporary, or long term career opportunities?  Visit our job seekers section for more information!  Want to learn more about how you can gain access to Trillium's national network of professionals and skilled workers? Contact us today!
Trillium, a national leader in staffing and recruitment is a valued staffing partner to over 5,000 companies nationwide. Trillium is privately owned by Oskar René Poch.