René Poch founder and CEO of Trillium Staffing, recently announced that Trillium had  been recognized as the 59th Largest Staffing Firm in the United States by Staffing Industry Analysts.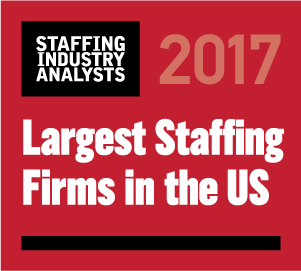 "Many years ago when we started the company we felt that there were a couple of things that we needed to do particularly well. The first was to give great customer service, that means finding the absolute best candidate for the jobs that we have available. Today, we use a partnership approach between our candidates and our clients to find the best possible career matches," states René Poch, CEO.
Trillium Staffing was founded in Battle Creek, Michigan in 1984, by founder and CEO René Poch. Since that time, René Poch has steadily expanded the employment service to include seven companies with over 95 locations across the nation. Today, Trillium is proud to be recognized as a national leader in recruitment and staffing, providing service to thousands of clients and employees in various capacities across the country.
The organization's commitment to excellence has been the driving force behind its growth and expansion. Trillium is proud to employ a full time risk management team to help clients identify areas of liability and provide an unsurpassed safety program for their employees.
With a recruitment team of approximately 400 individuals nationwide, Trillium excels at attracting, identifying, and recruiting some of the best candidates in each line of work. Trillium uses the latest technology and sourcing tools available to locate and identify talent for some of the industry's hardest to fill positions. Trillium employees have access to careers with some of the nation's leading employers along with competitive pay and benefit options.
"We have the same commitments to each and every one of our employees as we do our clients. We have high expectations and our requirements are stringent. Once you become an employee of Trillium, we'll do everything in our power to help you succeed and meet your career goals. When our employees are successful, we've done our job," stated René Poch, CEO.
Are you a stand out professional, technical professional, driver, or skilled worker seeking contingent, temporary, or long term career opportunities?  Visit our job board  for more information!  Want to learn more about how you can gain access to Trillium's national network of professionals and skilled workers? Contact us today!
Trillium, a national leader in staffing and recruitment is a valued staffing partner to over 30,000 companies nationwide. The Trillium brand of companies includes Trillium Staffing, Trillium Technical, Trillium Construction Services, Trillium Driver Solutions, Trillium Marine, Trillium Professional and Trillium Environmental. Trillium is privately owned by Oskar René Poch.