Let's face it, most job fairs are filled with hundreds to thousands of applicants like yourself that are all chasing the same positions. Standing out against the competition, especially when the hiring managers and recruiters are likely to be overwhelmed by the end of the day can be very difficult. Here are some great tips to help you land a job at a job fair!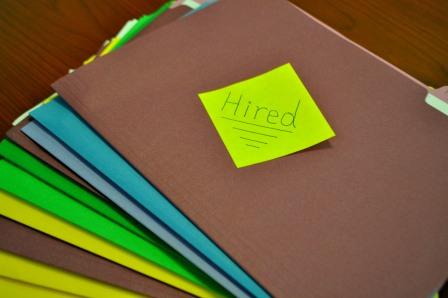 1. Come prepared. Sounds simple right? Some simple steps such as dressing professionally, researching which employers will be on hand that you are most interested in meeting with, researching those companies, and having a professionally built resume are the biggest steps to achieving success at a job fair. Many applicants consider a job fair to be a less formal setting and may appear more relaxed in their dress, often run out of a resumes, and can be seen wandering about hitting every booth. Walking with confidence to the locations that you are most interested in pursuing a career with can quickly set the tone for your conversation. Better yet, have a personalized cover letter for each of those employers to demonstrate that you came to the event seeking a career opportunity with them specifically.
2. Have your pitch ready. You'll likely have 60 seconds or less to speak with a hiring manager or recruiter. Creating a strong first impression is key. Speak confidently, be to the point, and make sure you are express your strongest skills and accomplishments during this time. There is plenty of time in the future to discover what positions they have open currently and what they anticipate for the future. This is your time to convince them of why they need to meet with you formally.
3. Demonstrate professional etiquette. Similar to any job interview you should come dressed professionally, avoid chewing gum, silence your mobile devices, and avoid strong smells such as smoke, coffee, or cologne. Make sure that the employer is focused on your skills and abilities, not something with your presence. Be sure to stand a safe distance behind the candidate ahead of you in line allowing them to speak confidentially with the hiring manager and not making either party feel rushed.
4. Leave with information. After meeting with each employer make any notes from your conversation on the back of their business card. This will allow you to follow up with information that may trigger them to remember your conversation such as "We had spoken in regards to your desire to expand your engineering services into the Phoenix market, that is something that I would have a strong interest in participating with". Be sure to note any follow up actions that were requested of you such as submitting an electronic version of your resume. Remember to send a personalized thank you card within 24 hours, expressing your continued desire to speak further with them in regards to career opportunities and what you can bring to their organization.