Yesterday kicked off Driver Appreciation Week across the country. With E-commerce continually on the rise, there is no more important time than now to thank Drivers and Logistics professionals for their hard work and commitment to getting the job done!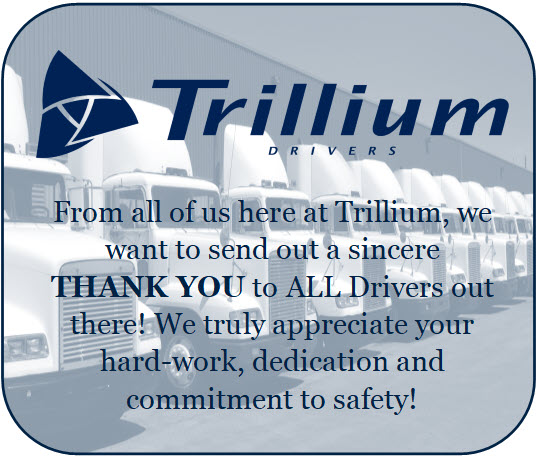 With over 1,500 currently working Drivers across the country, Trillium knows better than most the importance of experienced, qualified and reliable Truck Drivers. From moving consumer goods to delivering building supplies and electrical equipment, Truck Drivers make day to day business interactions continue to prosper and grow. Please, if you can, be sure to thank a Driver this week and remember what a vital role they play in all of our lives.
The Trillium brand of companies is privately owned by René Poch and provides more than 30 years of industry leading recruitment and staffing services through its divisions including: Trillium Staffing, Trillium Construction Services, Trillium Driver Solutions, Trillium Marine, Trillium Technical, Trillium Environmental, and Trillium Techs. With approximately 90 offices nationwide and nearly 400 internal recruitment professionals, the Trillium brand is proud to be recognized by Staffing Industry Analysts as a Top 25 Largest Industrial Staffing Firm in the U.S., a Top 100 Largest Staffing Firm in the U.S., a Top 100 Fastest Growing Staffing Firm in the U.S., and a 2015 winner of National Best and Brightest Companies to Work For. For more information please visit www.trilliumstaffing.com.