For many of us, having a job during the summer while in high school or college seemed like a necessary evil at the time, but in fact, these short-term positions helped to introduce many of us to our first taste of employment and independence. With that came unexpected benefits, not to mention the obvious monetary bonus!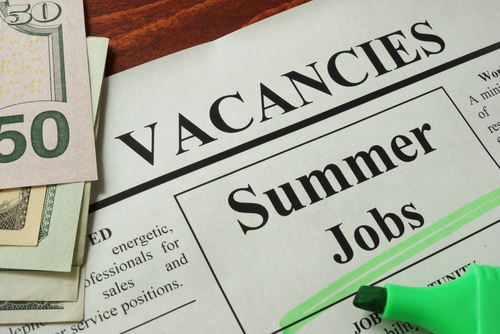 I know it may be hard to believe that your summer job working at the local pool as a lifeguard or picking up part-time hours at the downtown ice cream parlor could have had a lasting impact on your your overall wellness and professional success. But in fact, that may be just the case. Here are a few benefits summer or part-time work can have as you start your career path.
Increased confidence and independence: Having the ability to earn your own money, no matter how much or how little can have a huge impact on a person's confidence. It is during these first part-time or short term positions that we learn to trust our own abilities and grow confident in our still developing skill set. Customer service, patience and even interpersonal skills are all concepts that you may grow more confident in after your first opportunity for employment.
Time management: While balancing going to school and participating in extra-curricular activities during the school year can certainly help you to develop time management, these skills can lose their potency if you find yourself sitting around the house all summer. The best way to get prepared for college and adult life in general is to continue to practice prioritizing your days. The older we get, the more full our schedules seem to be. With that in mind, the time management skills we learn early on can help us be better prepared to juggle work, home life and even hobbies.
Stand out among your peers: After high school and even college, it is important that you have already started growing your work experience. While a summer gig at a fast food restaurant or mowing lawns may not necessarily prepare you for a future career in an office setting, you don't want to walk in to any interview with a blank resume. Being fresh out of school and having work history already under your belt will set you apart from your peers as future employers will see this as a sign of your willingness to work and dedication.
Learn more about yourself: While many of us may think we know what we want to do for a career going into a summer job (means to an end), those experiences may actually help you get to know what you like and dislike regarding work related activities. For instance, working at that local ice cream parlor may make you realize that you truly enjoy working face to face with the public but it also may make you realize that the food industry isn't for you. Anything you can gain from previous employment to help you make a better career choice down the road, can be more than beneficial.
Broaden your social and professional circle: It's all about networking, networking, networking! Throughout high school and even college, you will consistently hear your peers and colleagues discuss the importance of networking. Networking allows you to meet new people that you may not have had interactions with previously which can open up the door for new opportunities for growth professionally and personally. You never know, you may meet a good friend or potential future employer while working that summer position.
The bottom line here is that although that summer gig is great to bring in some extra cash, it can also help to prepare you for college, future employment and simply growing as an adult. Keep in mind that just because these jobs are not the most glamorous or may not pay higher than minimum wage, it is the important skills that we learn in these positions that can help us on our way to the career we want and are striving for.
The Trillium brand of companies is privately owned by René Poch and provides more than 30 years of industry leading recruitment and staffing services through its divisions including: Trillium Staffing, Trillium Construction Services, Trillium Driver Solutions, Trillium Marine, Trillium Technical, Trillium Environmental, and Trillium Techs. With approximately 90 offices nationwide and nearly 400 internal recruitment professionals, the Trillium brand is proud to be recognized by Staffing Industry Analysts as a Top 25 Largest Industrial Staffing Firm in the U.S., a Top 100 Largest Staffing Firm in the U.S., a Top 100 Fastest Growing Staffing Firm in the U.S., and a 2015 winner of National Best and Brightest Companies to Work For. For more information please visit www.trilliumstaffing.com.