Trillium Staffing is excited to announce that they have been recognized as one of West Michigan's 101 Best and Brightest Companies to Work For in 2023. The awards competition provides the regional business community with the opportunity to showcase their best practices and demonstrate why they are an ideal place for employees to work. The awards are presented to organizations based on nominations and direct feedback from employees of each organization.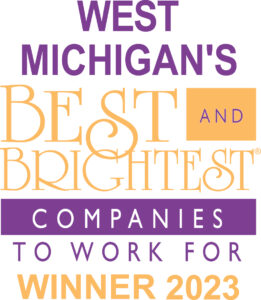 "Through unwavering commitment to our candidates and clients alike, we continue to strive to offer only the highest standard of customer service. We have high expectations and our requirements are stringent. Once you become an employee of Trillium, we'll do everything in our power to help you succeed and meet your career goals. When our employees are successful, we've done our job," stated René Poch, CEO.
The Trillium brand of companies is privately owned by René Poch and provides more than 30 years of industry leading recruitment and staffing services through its divisions including: Trillium Staffing, Trillium Construction Services, Trillium Driver Solutions, Trillium Technical, and Trillium Environmental. With approximately 100 offices nationwide and nearly 400 internal recruitment professionals, the Trillium brand is proud to be recognized by Staffing Industry Analysts as a Top 100 Largest Staffing Firm in the U.S., named on the Forbes America's Best Temporary Staffing Firms in 2022, and a 2022 winner of National Best and Brightest Companies to Work For. For more information please visit www.trilliumstaffing.com.