For the last 4 years, Trillium has continued to participate in a program where all of the branch offices decide on a way to give back to their local communities. Every March, Trillium offices nationwide have participated in an Annual Food Drive! Through the last few years, it continues to be obvious that our network of local offices, chambers and clients have had a deep dedication to their local communities.
Locally in Michigan, the Trillium Corporate office donated $740 to Kalamazoo Loaves and Fishes!
In 2017, a few of our Trillium branch offices really stood out with their giving efforts. Check out what some of the Trillium locations were able to accomplish over the past month!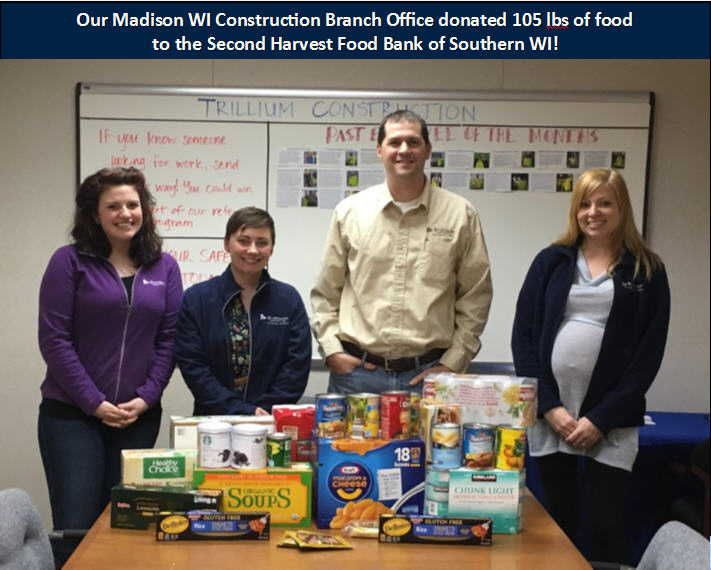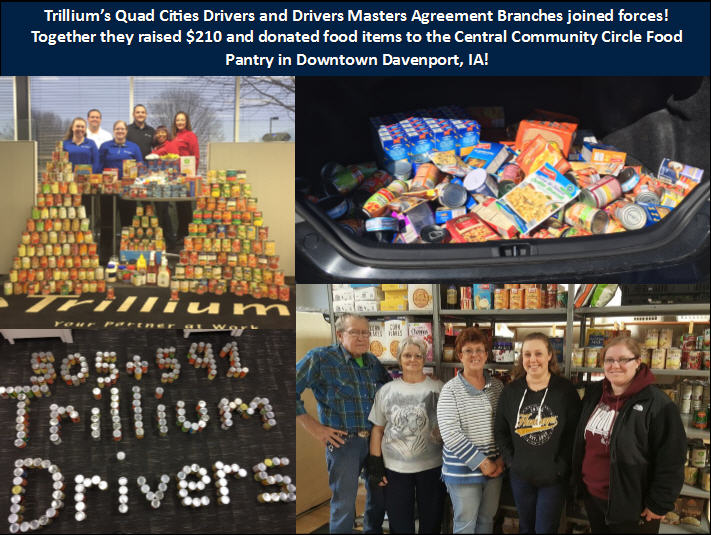 "A couple of groups truly went out of their way this year!" explained Jenna Mathieu, Marketing Manager. "By joining forces and putting their heads together, both the Nashville and Quad Cities Construction offices went above and beyond the call of the duty!"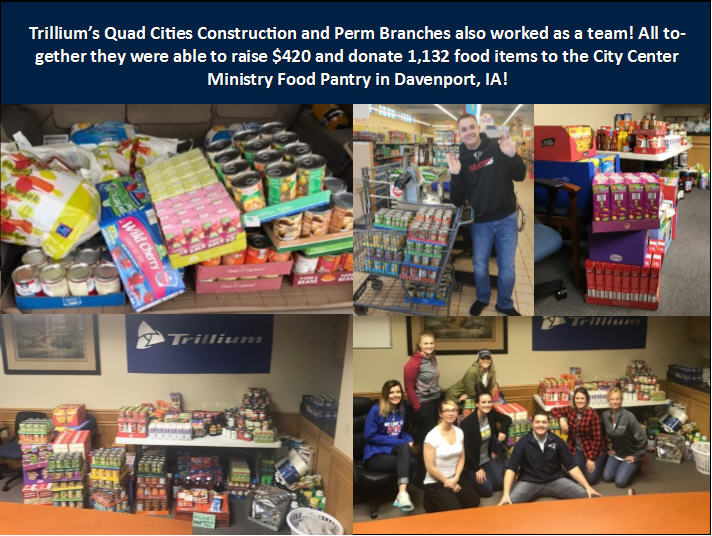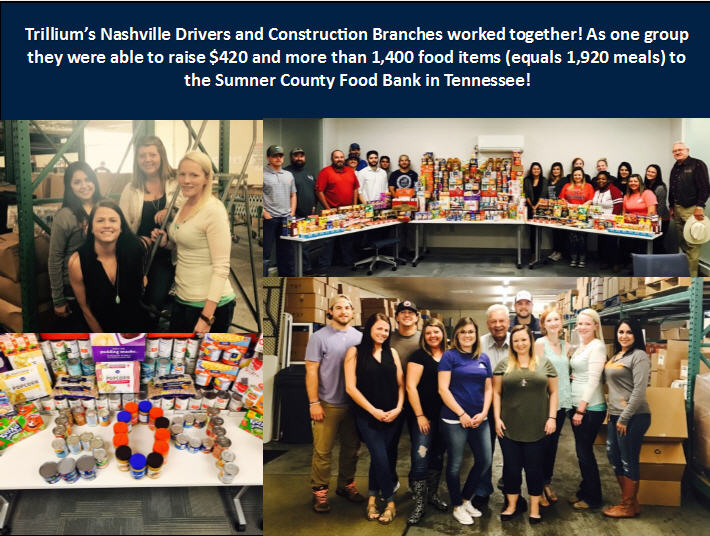 Both the City Center Ministry Food Pantry in Davenport, IA and the Sumner County Food Bank in TN were extremely thrilled receiving $840 and just over 2,500 lbs of food split between the two organizations.
"Once again we have been overwhelmed by the support our branch offices continue to show their local communities." Stated Carmen Hoover, Marketing Group Leader. "We continue to be humbled by the donated time and energy displayed by the Trillium branches nationwide."
The Trillium brand of companies is privately owned by René Poch and provides more than 30 years of industry leading recruitment and staffing services through its divisions including: Trillium Staffing, Trillium Construction Services, Trillium Driver Solutions, Trillium Marine, Trillium Technical, Trillium Environmental, and Trillium Techs. With approximately 90 offices nationwide and nearly 400 internal recruitment professionals, the Trillium brand is proud to be recognized by Staffing Industry Analysts as a Top 25 Largest Industrial Staffing Firm in the U.S., a Top 100 Largest Staffing Firm in the U.S., a Top 100 Fastest Growing Staffing Firm in the U.S., and a 2015 winner of National Best and Brightest Companies to Work For. For more information, please visit www.trilliumstaffing.com.