Trillium Construction Services considers safety a #1 priority on and off the jobsite. With that said, Trillium instituted a challenge to the entire Construction Division this past year. The main goal? Reduce jobsite injuries! With that said, Trillium is proud to announce that the Jacksonville, FL Branch has been awarded the 2016 Construction Safety Branch of the Year Award. The Jacksonville office went through 2016 with zero injuries!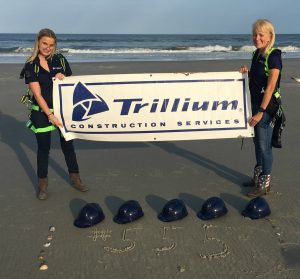 When Branch Manager, Amanda Lewis was asked how she accomplished this terrific feat, she replied "The employee check-ins and reference checks work. We make sure that every employee that goes on a jobsite understands that their safety is our number one concern." She added, "Our clients must be safety conscious too, or we can't partner with them."
With the number of jobsite injuries and incidents on construction sites on the rise, the safety of our employees remains Trillium Construction's top priority. With all of the branches cohesively working together, Trillium can continue to eliminate the number of incidents on jobsites each year. Congratulations to the Trillium Jacksonville office and keep up the good work!
The Trillium brand of companies is privately owned by René Poch and provides more than 30 years of industry leading recruitment and staffing services through its divisions including: Trillium Staffing, Trillium Construction Services, Trillium Driver Solutions, Trillium Marine, Trillium Technical, Trillium Environmental, and Trillium Techs. With approximately 90 offices nationwide and nearly 400 internal recruitment professionals, the Trillium brand is proud to be recognized by Staffing Industry Analysts as a Top 25 Largest Industrial Staffing Firm in the U.S., a Top 100 Largest Staffing Firm in the U.S., a Top 100 Fastest Growing Staffing Firm in the U.S., and a winner of National Best and Brightest Companies to Work For. For more information please visit www.trilliumstaffing.com