Trillium is excited to announce that the 2019 Employee of the Year has been chosen! Congratulations to Chad Riphenburg with our Eau Claire, WI construction office for being selected as the 2019 Employee of the year!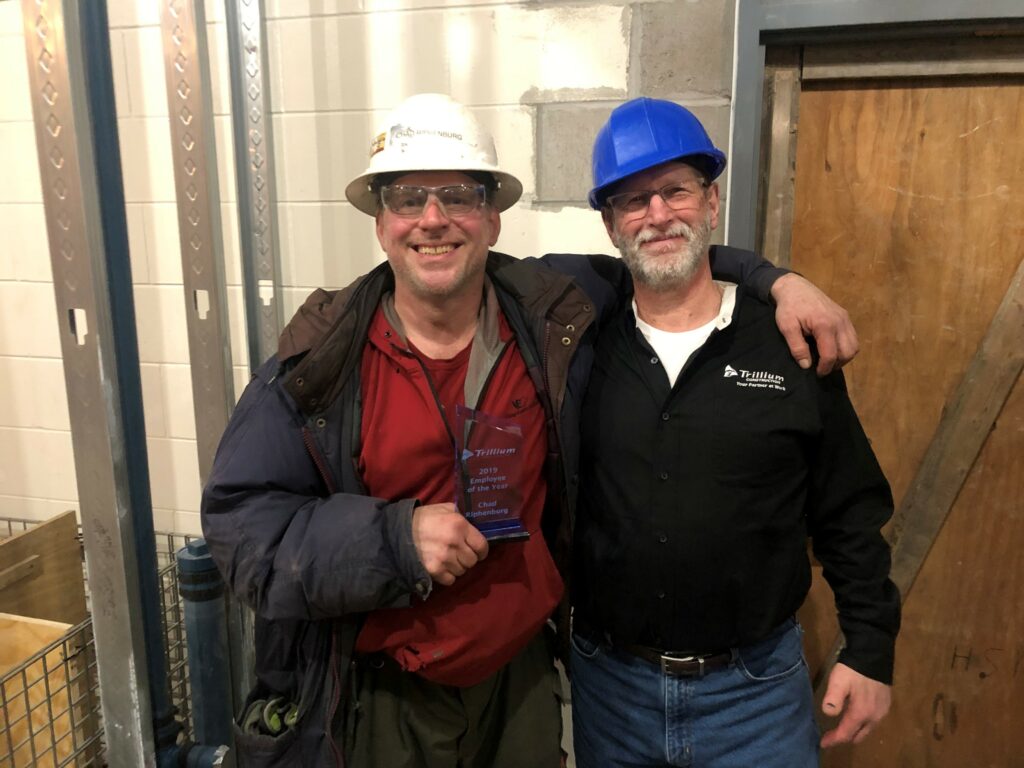 [Pictured above: Chad Riphenburg left, Gary Englert right]
Chad started his career with Trillium in 1992 as a Concrete Laborer. In addition, during the winter months, Chad would also perform HVAC duct work installation to expand his skill set. His incredible mechanical aptitude during this time lead to an easy transition to the electrical trade. Today, Chad is an extremely competent Commercial Electrician that the Eau Claire office is lucky to have as a part of their team.
"I can't say enough nice things about him," stated Gary Englert, Trillium Construction Selling Branch Manager for the Eau Claire office. "He's always willing to give 110% and is very safety conscious and is a consummate team player. Chad is an individual that I have no difficulty keeping busy. In fact, when he's wrapping up an assignment, I always have a handful of clients that are more than willing and eager to put him back to work. Chad's prophetic words that I hear so often, 'If it's got to be, It's up to me,' reflects perfectly how he lives his life. We are truly blessed to have Chad working for Trillium."
In appreciation of Chad's loyalty and hard work, he will be receiving a VISA gift card, Trillium jacket, an award, and lunch with our team. Congratulations on a job well done, we look forward to continuing to watch your career grow with us!
The Trillium brand of companies is privately owned by René Poch and provides more than 30 years of industry leading recruitment and staffing services through its divisions including: Trillium Staffing, Trillium Construction Services, Trillium Driver Solutions, Trillium Technical, and Trillium Environmental. With approximately 100 offices nationwide and nearly 400 internal recruitment professionals, the Trillium brand is proud to be recognized by Staffing Industry Analysts as a Top 35th Largest Industrial Staffing Firm in the U.S., a Top 100 Largest Staffing Firm in the U.S., a Top 100 Fastest Growing Staffing Firm in the U.S., and a 2018 winner of National Best and Brightest Companies to Work For. For more information please visit www.trilliumstaffing.com.