Trillium is excited to announce that the San Bernardino, CA Construction office has been named the 2019 Safety Branch of the Year!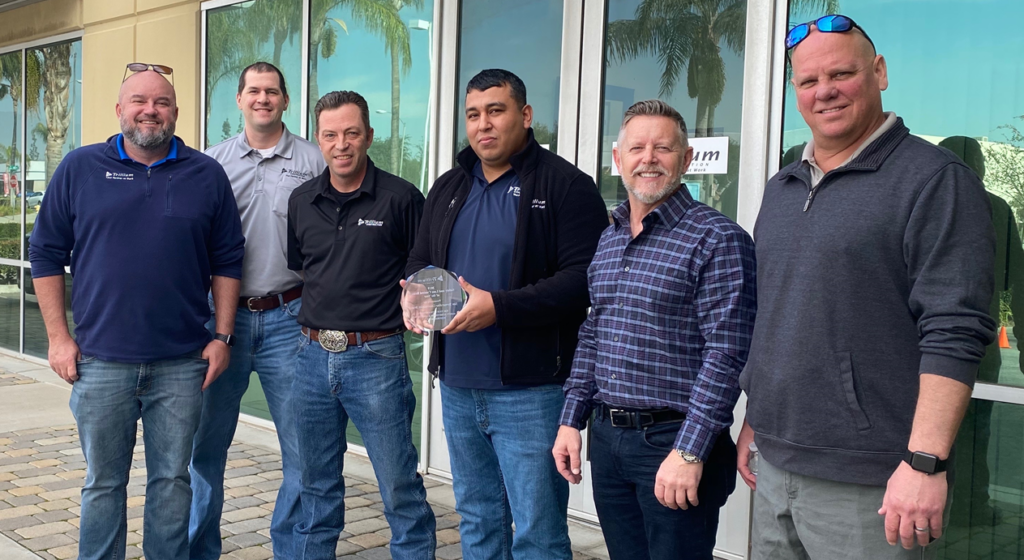 [Pictured from Left to Right: Brandon Silvera – Divisional Vice President; Jeff Waugh – Area Manager and Safety Committee Member; Wolf Hopen – San Bernardino Area Sales Manager; Daniel Gonzalez – San Bernardino Recruiter; Toby Copeland – CA Area Manager; Jamie Ellis – Senior Safety Manager]
The San Bernardino office completed 2019 with ZERO injuries and an overall internal audit score of 96%. A huge congratulations goes out to Wolf and Daniel for a job well done! Trillium takes safety seriously on and off the job site and we are more than proud of the work this team has been able to accomplish over the past year. Here's to a fantastic 2019 and to keeping it up throughout 2020!
The Trillium brand of companies is privately owned by René Poch and provides more than 30 years of industry leading recruitment and staffing services through its divisions including: Trillium Staffing, Trillium Construction Services, Trillium Driver Solutions, Trillium Technical, and Trillium Environmental. With approximately 100 offices nationwide and nearly 400 internal recruitment professionals, the Trillium brand is proud to be recognized by Staffing Industry Analysts as a Top 35th Largest Industrial Staffing Firm in the U.S., a Top 100 Largest Staffing Firm in the U.S., a Top 100 Fastest Growing Staffing Firm in the U.S., and a 2018 winner of National Best and Brightest Companies to Work For. For more information please visit www.trilliumstaffing.com.