When it comes to your resume, many of us either over analyze every word or tend to not give it much thought. Whether you tend to live at one spectrum or the other, either strategy can actually be detrimental to landing that next interview. Let's find some middle ground, shall we.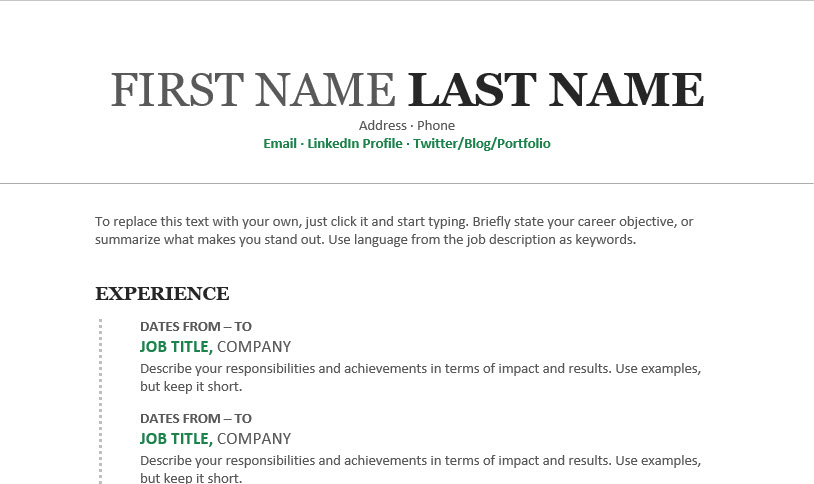 The first step in this process is to first assess what it is you actually are looking to do. Ask yourself "why do I want this job?" or "what is it about this job that truly sparks my interest or relates to what I WANT to do in my career?" Once you are able to convince yourself that you are right for the role and this position makes sense for what you want, convincing the hiring manager of the same realization will be a cake walk.
It is important to remember that using the exact same resume for every job that you apply for may not be the best strategy. You want your resume to be tailored specifically for not just the job you're applying for, but to the outlined job duties. Be sure to update and highlight specific job description details from past employment on your resume that are easily and readily recognizable as transferable skills. You want to focus on past experience that can directly relate to the new role in question. In an effort to try and match up your experience to a new role, do your research. Get to know the company's culture and all around mission to grasp a better idea of what type of position this may be. This will help you be prepared to prove to the hiring manager how you are THEIR solution and not just another resume.
Unless you work in some form of design, fashion or other creative industry, less is certainly more when it comes to the formatting and layout of your resume. While you want your resume to look professional and stand out, if the layout, font, colors, etc. are too distracting, the hiring manager may not even bother reading it. It is important to keep your resume simple, concise and with a lot of white space. Although, you may feel it necessary to list all qualifications, duties, etc. on the resume, by keeping it simple and to the point, you can better convey your value to the Recruiters reading it.
Whatever you do, do not rely solely on applying online or leaving your resume out there on a job board, hoping that someone will locate it. If you want to stand out among the crowd, you need to be proactive in your strategy. Try reaching out directly to Hiring Managers or start building relationships with individuals in your industry. Networking can be huge when it comes to getting in front of the right people. By cultivating these meaningful relationships, you may find out about openings before they are even posted and could, in turn, get your resume in front the proper decision makers before your competition.
If you have concerns about your resume or are trying to figure out why you are not getting any hits or responses, take these tips to heart and maybe re-evaluate your current job seeking strategy. Your resume should never be the only arrow in your quiver; but should be the catalyst to get you noticed so you can truly sell your skills and value to your future employer.
The Trillium brand of companies is privately owned by René Poch and provides more than 30 years of industry leading recruitment and staffing services through its divisions including: Trillium Staffing, Trillium Construction Services, Trillium Driver Solutions, Trillium Marine, Trillium Technical, Trillium Environmental, Trillium Hospitality and Trillium Techs. With approximately 100 offices nationwide and nearly 400 internal recruitment professionals, the Trillium brand is proud to be recognized by Staffing Industry Analysts as a Top 25 Largest Industrial Staffing Firm in the U.S., a Top 100 Largest Staffing Firm in the U.S., a Top 100 Fastest Growing Staffing Firm in the U.S., and a winner of National Best and Brightest Companies to Work For. For more information please visit www.trilliumstaffing.com.