The American Trucking Associations estimates the driver shortage in 2021 topped 80,000 drivers, and experts are worried that number could skyrocket to over 160,000 by 2030. While this shortage can be attributed to several causes, there is one thing that we can state definitively—no matter how challenging driver recruitment and retention become, Trillium Driver Solutions (TDS) will never cut corners on safety.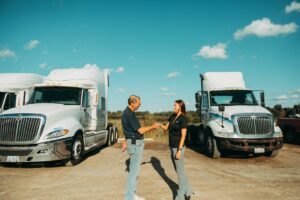 Part of our safety-oriented culture at TDS is making sure our high safety standards are met, even when it can be difficult to find & retain the right qualified driver.
Since the trucking industry is still searching for ways to increase the availability of drivers, retention is truly the name of the game with fewer overall candidates. Safety is a major part of keeping the qualified drivers you want since the best drivers want a safe working environment with co-workers and supervisors who are equally safety aware.
Retention starts with recruiting
Good driver retention begins at the initial hiring process. Too often what the client wants and what the driver needs are not communicated effectively, which leads to high turnover. Miscommunication or ineffective vetting processes can also lead to lapses in safety if a driver is sent to a job where the physical or equipment requirements are beyond what they can handle. That's why, when vetting driver candidates at TDS, we start by making sure we have the right person in the right role. For example, if the job requires heavy lifting or the use of specific equipment, we make sure the candidate has quality experience with those needs. We look at all their past employment history, so we have a record of all of their work experience. We make sure to clearly communicate the expectations of the client to the candidate before they are sent on the job.
Another important step to our process is a deep dive on the safety history of every driver we hire. We check their state DMV Motor Vehicle Record (MVR), along with PSP and DAC reports upon client request. These reports enable us to screen out any candidates that have a history of poor driving or other safety violations.
Retention doesn't stop with the hire
One complaint we often hear from drivers recruited by companies or individuals other than TDS, is that after they are hired, the recruiters that seemed so interested in helping them find the right role suddenly disappear. At TDS, our relationship with our drivers is important to us, even after they are placed. Our team is in constant communication with our placements to ensure they are happy with the position. We check in with our drivers to make sure all safety standards are met by the customer. Our drivers know they are valuable assets, and our team treats them as such.
We offer referral bonus programs to all of our drivers to send other qualified candidates our way. The referral program is open even to drivers who have left TDS for whatever reason. Not only do we consider our drivers part of the TDS family but maintaining great relationships with former drivers is also a valuable recruitment source. A good referral from a qualified and safe driver means a lot more to us than data sent from a job posting site.
Recruiting and retaining drivers is a tough business these days, but if we maintain a focus based on safety and quality relationships with our drivers, it is a challenge we can certainly meet.